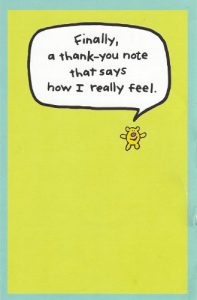 People react to better hearing in a wide variety of ways. Recently one of our patients came in for maintenance on a hearing aid. She brought a thank you card which expressed her appreciation and she cried as she described how precious better hearing is to her.
We don't see that level of emotion every day, but we certainly appreciate all the cards we get. What is more common is the gentleman who has an obvious hearing loss, but who is in denial of the problem. Other people mumble. His wife turns away as she's speaking and he doesn't understand. It's not his problem. I've probably put this next anecdote in a previous post, but it bears repeating, if only to point out how far some people will go in their denial.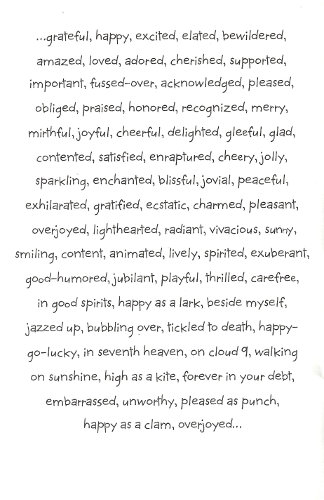 Many years ago my mother and grandmother were having a conversation at the dining room table. My grandfather was listening, and as they were speaking, he interrupted to accuse them of learning a different language in order to leave him out of the conversation. Needless to say, they were surprised, but his accusation makes a certain amount of sense if you think about it from his point of view. He could hear them speaking, but didn't understand what they were saying. They obviously understood each other. Of course he didn't have a problem, so they must have done something to keep him from understanding, like learning a new language.
Most people with this problem have difficulty listening in background noise. One step that may help them realize the extent of the problem is to bring them in for a free hearing-in-noise check. Once we demonstrate the problem, people are often more willing to go from denial to acknowledgement of the issue.