If you've purchased hearing aids in Hampton Roads, but not from Ears to You, then try not to cry when you get to the last paragraph:
"I can not tell you how impressed I am with your hearing aids. I can hear perfectly to include the microwave beeping when it is done, the backup warning on our car, clocks all over the house, street noise from Denbigh (3 blocks away), ALL conversations. The list goes on and on." Clyde in Newport News
"Hi David! How nice of you to check in. So far, I'm LOVING being able to hear. I've worked a couple afternoon shifts wearing them and am able to hear things I can't recall hearing before." Cheryl in Ohio
It's obvious that Clyde and Cheryl want to hear as well as they can. Their results can only be obtained by combining great technology with a great fitting process. Clyde is an experienced hearing aid user; he's purchased hearing aids from two other area providers over the last 10 years, but he's never been able to get the results he wants until now. Cheryl is a new hearing aid user who is just starting her journey with better hearing. She drove to Virginia on the advice of her brother who had seen me recently.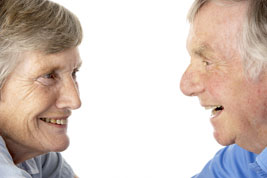 You don't have to pay $5,000, $8,000, or $10,000 at Ears to You. Premium technology is available for around $4,000. Like I said, try not to cry. Just call 757-877-4000 for an appointment.