A recent article in our local paper, the Daily Press  reported that "…geriatricians, and other health and social service providers are growing increasingly worried about loneliness among seniors…their concerns are fueled by studies showing it is linked to serious health problems…" The article listed memory loss, strokes, heart disease, and high blood pressure as possible consequences, and hearing loss or life changes such as retirement among possible causes.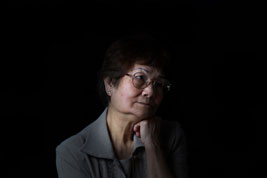 Seniors don't have to take loneliness sitting down. The article tells about an organization called the Little Brothers Friends of the Elderly that connects seniors and volunteers. There are only a few chapters around the nation, however, just knowing about a work like this may motivate someone to start a local chapter or an organization like it. The article also tells of an AARP Foundation online network called Connect2Affect. This network allows people to do a self-assessment and reach out to others who feel disconnected. A quote from the AARP's chief medical officer summarizes the problem, "Loneliness is a huge issue we don't talk enough about," said Charlotte Yeh, "There is a huge stigma."
The effect of hearing loss on loneliness depends on the amount of hearing loss, the personality, and the social network of the one affected. Friends and family need to recognize when a senior they know is beginning to show signs of hearing loss. One indication is the volume level on the television. An assessment and treatment by an audiologist can dramatically reduce loneliness, improve a senior's relationships, and get them back to activities they love.
The article was written by Anna Gorman of Kaiser Health.